Tucked in an undiscovered corner of northern Perak is Kuala Gula, a fishing village that's very close to the fantastic Kuala Kurau, and sits on the coast that extends to the south into the more famous mangroves of Kuala Sepetang.
Regardless of its stunning location, Kuala Gula's main claim to fame is the Kuala Gula Bird Sanctuary, a large area of the river estuary and mangrove swamps that empty into the sea. This place is not only inhabited by the local fishermen who get out at sea daily looking for prawns, but also by a staggering amount of migratory birds. They favor Kuala Gula's warm tropical climate and its mangroves which are rich in nutrients like prawns, small fish, and snakes.
Don't forget that Kuala Gula is very close to Taiping and its amazing food, where you will also be able to hike up the former British Hill Station of Bukit Larut and stroll around the lush Taiping Lake Gardens.
And if you are continuing to Ipoh, don't forget to take a trip to the impressive Ipoh cave temples (and check some nice Airbnb to stay in Ipoh) or consider a diversion to white-water rafting and caving capital Gopeng, or the blissful Pangkor island with its Kali Amman temple.
How to Get to Kuala Gula
Kuala Gula is best reached with your own wheels. If coming from Penang, drive on the Old Road 1 to Bagan Serai, and then take Road 75 all the way to Kuala Kurau town. If you arrive on the E1 Highway, the closest exit is Bandar Baharu, from where you'll have to reach Parit Buntar and proceed again south to Bagan Serai to connect on Road 75.
In Kuala Kurau, cross the main bridge above the Kurau River and continue straight for about one kilometer until you'll find the turnoff to Kuala Gula.
The route can certainly be cycled in less than three hours, something to consider if you are looking for another destination to check out from Penang state. In this case, try to stick to the coastal road and get off Old Road 1 as soon as you can.
Alternatively, if coming from Taiping and Ipoh/Kuala Lumpur, exit at the Taiping Utara toll and proceed to Simpang Empat Semanggol, where you can take a left turn onto A100 and reach Kuala Kurau from the south. Kuala Gula is at the end of the left turn-off before the bridge on the Kurau river.
---
Where to Stay in Kuala Gula
To be frank, there isn't good quality accommodation in Kuala Gula, and the nearest and best places to stay are all in Kuala Kurau, about 13 kilometers away. Kuala Kurau has enough charm to be a pleasant overnight stopover, especially if you like your seafood cheap and zesty. Otherwise, you will have to overnight further away in Taiping or Kuala Sepetang — but why, when Kuala Kurau is so near and full of things to see and do? Read our guide to Kuala Kurau.
Best Hotels in Kuala Kurau
The best option in town is the Kurau Inn Farmstay, just outside of town near the northern access to the Kuala Kurau bridge, and surrounded by quaint paddies and countryside. The rooms are top-notch for the price and include a small swimming pool. A perfect place to stay for families and small groups of friends. Check prices and book on Booking.com.
---
Kuala Gula Best Attractions and Things to Do
The main reason to come to Kuala Gula is the Kuala Gula Bird Sanctuary, but there are a few other things to do and places to eat you shouldn't m
Visit Kuala Gula Bird Sanctuary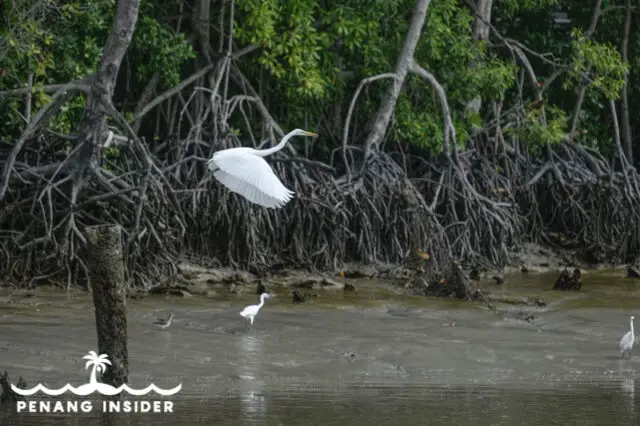 An egret flies on the banks of Kuala Gula's river, which is surrounded by mangroves (image © Kit Yeng Chan)
Kuala Gula's main attraction is the Bird Sanctuary, a river estuary system where migratory birds coming from as far as Siberia, Japan, and beyond stop on their way southeast — their final destination is Australia or New Zealand.
The birds start arriving at Kuala Gula from the end of August, which is the best time to visit Kuala Gula Bird Sanctuary — consider however that the movements of the tide influence your visit. Some bird species end up staying for a few months until May, while others continue their migration towards the Southern Hemisphere much earlier than that. By any means, keep in mind that after November you'll see fewer birds around here.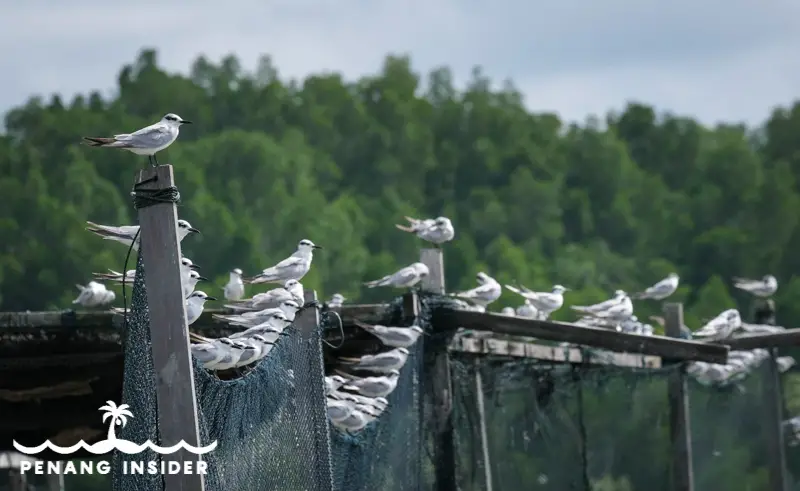 Regardless, Kuala Gula Bird Sanctuary remains a bird watcher's paradise as it hosts many rare species such as the Curlew. Believe it or not, this small bird can fly up to 8,000 kilometers without ever stopping. The Curlew can live up to 37 years and make this incredible intercontinental crossing up to twice per year. They truly are incredible birds.
Set between river and sea, Kuala Gula's mangroves are the perfect environment for migratory birds such as the Curlew because the kayu bakau (Malay language for "mangrove") offers a lot of different types of food, such as prawns and small fish, which often convince the birds to stop here for long periods of time.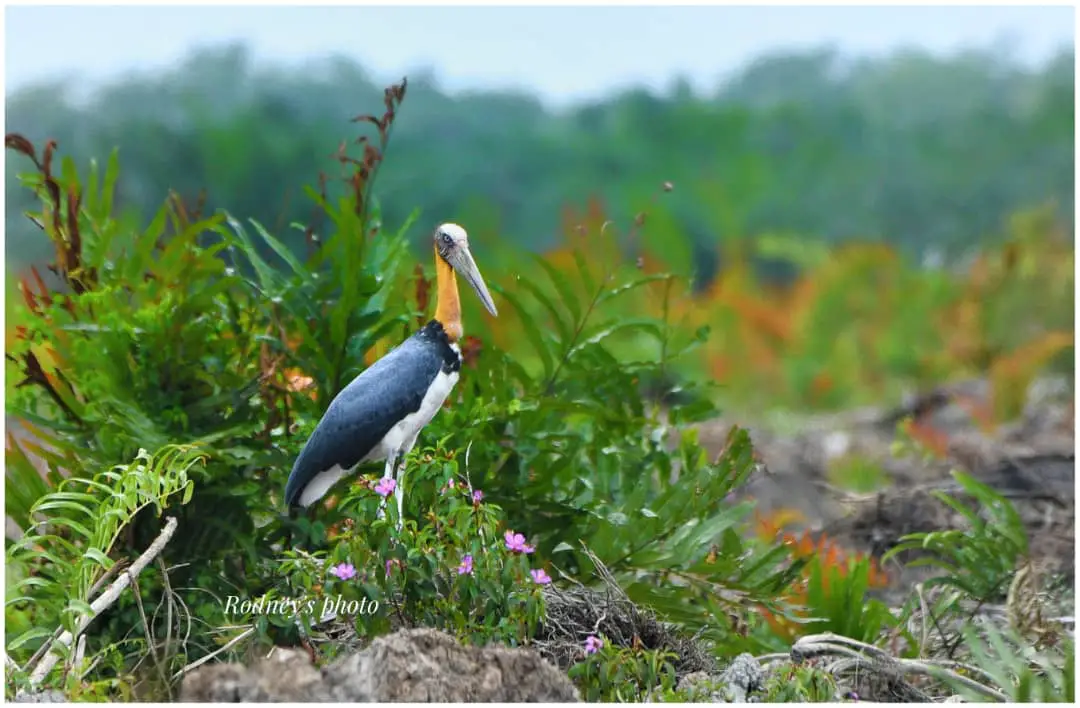 The area is also the best habitat for the Lesser Adjutant, the biggest bird in Malaysia. It's a big, scary-looking bald stork that can measure up to 120cm, and whose favorite food is snakes — the main reason why it loves to dwell in Kuala Gula's ample mangroves.
At last, Kuala Gula's estuary also hosts three different species of dolphin – the Indo Pacific, Irrawaddy, and Bottle Nose. It's hard to say if you will be able to see them or not, so don't keep your hopes too high.
The only way to visit Kula Gula Bird Sanctuary is by taking a boat trip. Local guides charge 200RM per boat for a maximum of 12 people. Kuala Kurau's hotels such as Kurau Inn Farmstay can help organize this trip — don't rock up at Kuala Gula without a booking to avoid disappointment.
---
2
Visit Perhilitan Office's exhibits
The office of Kuala Gula's Perhilitan (the Department of Wildlife and National Parks Peninsular Malaysia) was off-limits to tourists during the coronavirus CMCO, but hosts a number of detailed information boards that tell a lot about the rare bird species you can see at Kuala Gula Bird Sanctuary.
If you are not very interested in museums and exhibits, keep in mind that here you can also see an enclosure containing two wounded Milky Storks. These rare birds are kept here in captivity to be nursed by the local rangers. This is certainly no visit to Pulau Kalampang (read below), but remains a unique chance to see these majestic birds up close — even though they are sick and, of course, they cannot fly.
---
3
Visit Pulau Kalumpang and Stork Land
Pulau Kalumpang is an offshore island nearby Kuala Gula's river estuary where archaeologists found traces of prehistoric human habitation. What's more interesting for bird watchers, however, is what the local guides call "Stork Land" — a hidden area that's a natural habitat of the Milky Stork, the most endangered bird found in Kuala Gula.
Local guides say that there may be as few as only ten Milky Storks left in this area. Note well that Pulau Kalumpang, like the rest of Kuala Gula, is not well maintained and is not a tourist spot: the boat jetty where the guides used to moor their boats has now crumbled down, its wooden planks have been stolen, and the trek to Stork Land (45 minutes/1 hour journey) is across the very muddy, swampy and mosquito-ridden territory. Bear in mind that this trip is not for everybody and it requires serious preparation and permits — your guide will be responsible to inform the local Perhilitan Office, who may or not follow you around to make sure you are not going to poach the storks.
---
4
Eat Fresh Kuala Gula Seafood at JS Muara Restoran Terapung
Kuala Gula has a few Chinese restaurants tucked along the main road leading out of town, but if you want to experience a cool floating Malay restaurant, JS Muara is where you must go. Set directly on the river next to a small fishing farm, the covered and floating restaurant JS Muara serves zesty Malay food at reasonable prices — even too reasonable, given the charming surroundings.
The place is simple and no-frills, with wooden tables set across a large floating restaurant connected to the riverside by a rickety bridge, but it offers the best vantage point to see the water and the cran and fish farms that float in it. JS Muara is of course a good place to eat fresh seafood, including ketam lembut ("soft shell crab"), but they also offer all of the Malay staples, from fried kway teow to daging masak merah. The food is not pricey — think of RM15 for a complete meal — and definitely tasty, but it's the surroundings that are unbeatable in the whole of Kuala Gula. A perfect place to go for lunch after your boat trip to the Bird Sanctuary.
---
5
Visit Bao Tian Gong temple
Kuala Gula's sizeable Chinese community has built several shrines, of which Bao Tian Gong is a prime example as it sits right next to the huge water tank dominating the town. It's a simple and small temple, but an interesting one because of the colorful wall decorations depicting the Chinese green dragon and white tiger, two of the basic elements of good Feng Shui.
---
6
Visit Chew Boo Kong temple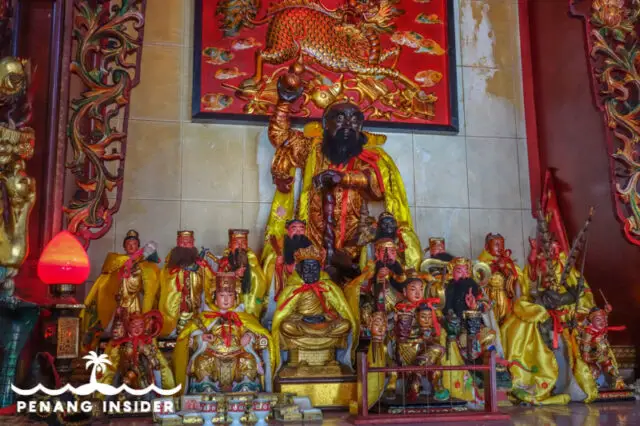 Taoist deities spread on an altar inside Kuala Gula's Bao Tian Gong temple (image © Marco Ferrarese)
Not far away from Bao Tian Gong is another Chinese temple, Chew Boo Kong. The structure is newer and seems to have been renovated recently, but the elements inside are older than Bao Tian Gong's. You'll see plenty of wooden statues of the deities, including hanging wood panels depicting the 36 Heavenly Gods and Immortals riding their animals, and a vintage tiger-striped carpet. A shrine filled with quirky and vintage religious objects that definitely deserve a visit.
---
7
Stroll on the Chinese Fishing Jetties
The whole riverside where Kuala Gula sits is dotted with the fishing jetties, weighing stations, and workshops where locals haul and sell fish. A visit is interesting especially if you can speak some Chinese because the locals are quite chatty given that the best part of the tourists who used to flock here have gone — visitors are welcome and a source of local curiosity.
---
8
Go to Hell at Hua Seng Keng (华圣宫) Temple in Kuala Gula
This may be Kuala Gula's (and one of Perak's) quirkiest sights. The notable things about this Buddhist Chinese temple are many, starting with the fact it's built inside a palm oil plantation, and manned by the local Indian population as if this were a slice of Colonial Malaya.
Hua Seng Keng temple is lysergic, disturbing, and extraordinarily tacky, and offers a bit of everything, from a statue of Goddess of Mercy Kwan Yin — the same you'll find at Kek Lok Si Temple in Penang — accessed via a staircase that passes through the open mouth of a dragon, to the replica of the Great Wall of China, and a courtyard filled with the life-sized, scary reproductions of the 12 animals of the Chinese Zodiac.
But the best thing at Hua Seng Keng is the underground cellar that brings you to Hell and back: you'll join a line of departed souls as they queue up to be sent to their dedicated pit of hell. This is where they get sliced by saws and knives, thrown into cauldrons filled with boiling water and beds of nails, and even quartered under the wheels of a chariot. It's all realized in gruesome, life-sized effect.
Once you leave hell and climb to the top of heaven, you'll feel only partially better because of the views over hectares of palm oil plantation tucked between the highway and the sea.
Find Hua Seng Keng's hell on earth here:
---
9.
Admire Kuala Gula's only Petrol Pump
Even people in nearby Kuala Kurau were surprised about finding out this lonley petrol pump in Kuala Gula… (image © Marco Ferrarese)
For as odd as it may sound, Kuala Gula only has one old school petrol pump set in the square beyond the water tank and opposite the Chew Boo Kong temple. Nothing special, you think? Well, we think otherwise: in fast-developing Malaysia, where comforts are everywhere, this petrol pump is a true monument to a past that still survives only in Malaysia's hidden corners.