Have you ever heard of Kuala Kurau? Probably not, but this article will tell you all about Kuala Kurau attractions, the best things to do in Kuala Kurau, and why you should make a stop in this offbeat town that's locally famous for its connection with the local Chinese triad. Don't be scared: Kuala Kurau is a lovely and safe place to visit.
Kuala Kurau is a small seaside village in Northern Perak, but it's very close to Penang. It makes for a very interesting day trip from the island, as you can reach Kuala Kurau in about an hour from both Penang and Taiping (did you visit the beautiful Bukit Larut and Taiping Lake Gardens yet?). It's also not far from Kuala Sepetang, one of Malaysia's most important mangrove conservation areas. The bird sanctuary of Kuala Gula is just fifteen minutes drive away. And it's only about one hour away from Perak's resort island Pulau Pangkor.
What we like about Kuala Kurau is the fact that it's tucked along the Kurau River and its estuary. A bridge separates the town into the center proper on the northern side, where you'll find a morning market and a series of very interesting Chinese mansions — did I say Triad connections, right? — and old-world coffee shops.
On the southern and opposite side of the Kurau River is the area of Bagan Seberang, the most touristic, for inasmuch as Kuala Kurau can sell out — expect a food court next to a water-facing modern Chinese temple, with a concrete walkway passing by the riverside. Bagan Seberang is a good place to grab a bite (read more below) and take some photos of the estuary. There's a tacky concrete board right by the waterfront to serve this purpose.
If you have your own wheels — you should, as the town it's quite spread out along the two sides of the river — you can get beyond Bagan Seberang's food court and literally get lost in the maze of paddy fields, small country roads and canals that extend all the way around the countryside.
Don't forget that after visiting Kuala Kurau, beyond Taiping, you can continue south to either visit Ipoh's cave temples and stay for at least one night in this beautiful city at one of Ipoh's coolest Airbnbs. From here, you could also go white-water rafting in Gopeng, Perak's adventure central. Kuala Kurau is also very close to the many great hikes in Penang Mainland.
---
---
Kuala Kurau Best Attractions and Things to Do
So you followed our suggestions and arrived in Kuala Kurau and want to know what to do, right? Here are what we think are Kuala Kurau's best attractions.
1
See How Locals Build and Fix their Fishing Boats
If you visit Kuala Kurau on a weekday, don't miss the chance to visit the fiberglass boat workshops along the northern side of the Kurau River. You can access via the small residential roads that jut out of the main thoroughfare Jalan Pantai to reach the waterfront. Look for entry points beyond the two colorful Chinese temples on the western side of the road, after the Caltex petrol pump.
These workshops are not a museum of sorts, so mind well, you will be walking into people's workplace — it pays if you can, or have someone who can speak a few words of Mandarin, to ask the workers if you can peek around.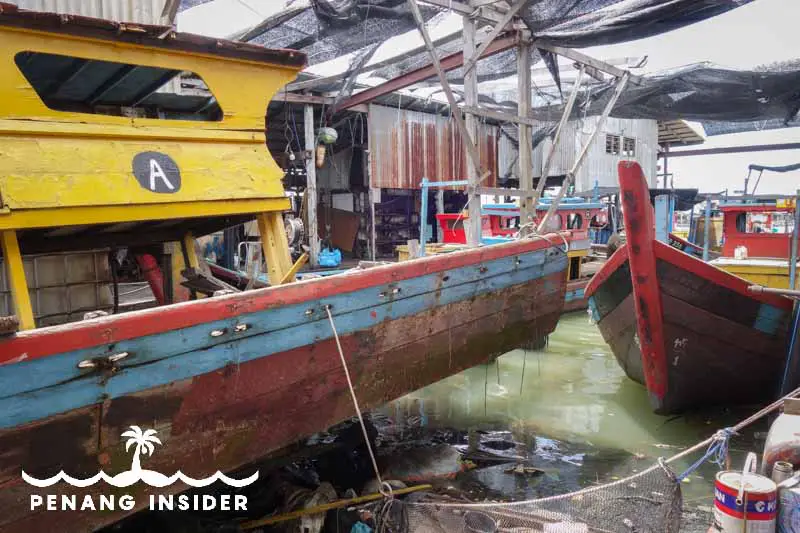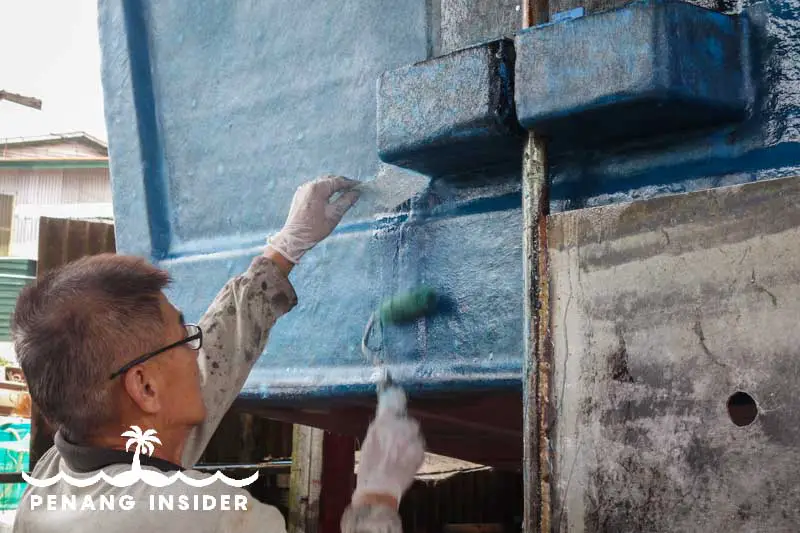 We found Kuala Kurau fishing boat workshops a very interesting local attraction: the fiberglass boats used here are smaller than those you usually see in Penang or other coastal parts of Perak, and as such they need more repairs. The expert local artisans at work here do everything from fixing cracks to polishing and waxing their boats' boughs, flanks and bottoms.
It's a very interesting stop for photographers, who can also enjoy some pretty good views of life on the Kurau River from this less-touristy shore.
---
2
Visit the Joo Hong Chan Salted Egg Factory
On the northern outskirts of town is this telur masin (salted egg) factory that has been operating since the 1950s. Their shop here sells their own creations: freshly made duck eggs covered with burnt rice husk.
A small factory to the left side of the shop is open to the public and has friendly workers who are willing to let you peek at the whole process. The eggs are first weighed and separated with a funky old-world metallic machine, and are then passed on to another where they are smeared with a mix of salt and tanah merah (red earth) —essentially, the eggs are covered in fresh mud.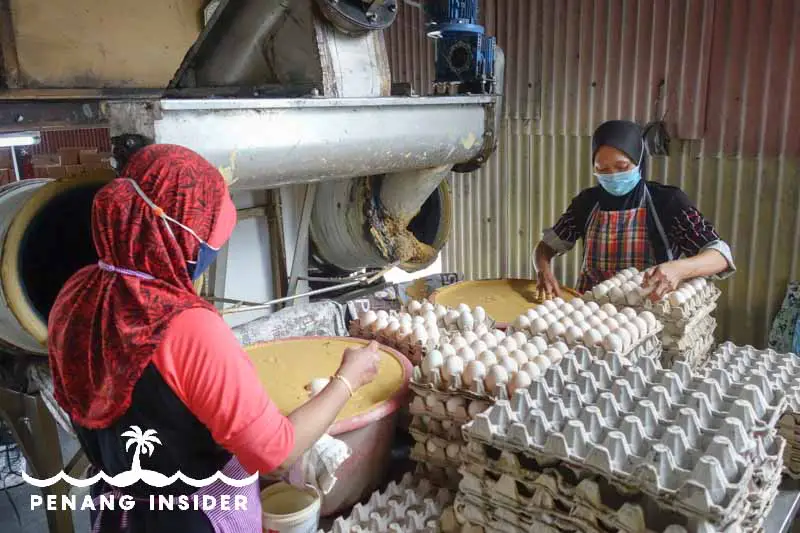 The salted eggs are then passed down to a third machine that covers the fresh and sticky mud with burnt rice husk, producing the final "black salted eggs" whose crust looks like they have been laid by alien ducks from outer space. The factory also sells pretty tasty century duck eggs you shouldn't miss.
You can find Joo Hong Chan Salted Egg Factory here:
---
3
Visit the Hai Hin Rice Mill
Right opposite Joo Hong Chan salted egg factory is another of Kuala Kurau's industrial backbones, the Kilang Beras Hai Hin, which started operations at the end of 1943 during the Japanese occupation of Malaya. A small museum at the entrance still conserves the old tools used in the early production, such as the metallic stamps employed to print Hai Hin's logos on the rice sacks.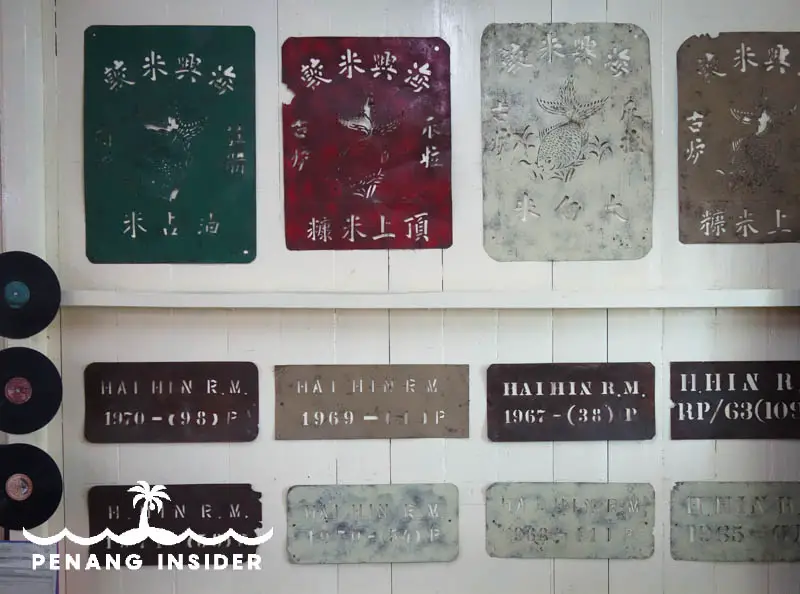 Beyond producing simple — well, not so much, as I'll explain — white rice, the specialty of Hai Hin Rice Mill is "beras embryo", or embryo rice. This type of rice goes through an extra hulling process compared to brown rice to remove the bran, or the layer that makes brown rice harder to cook and digest.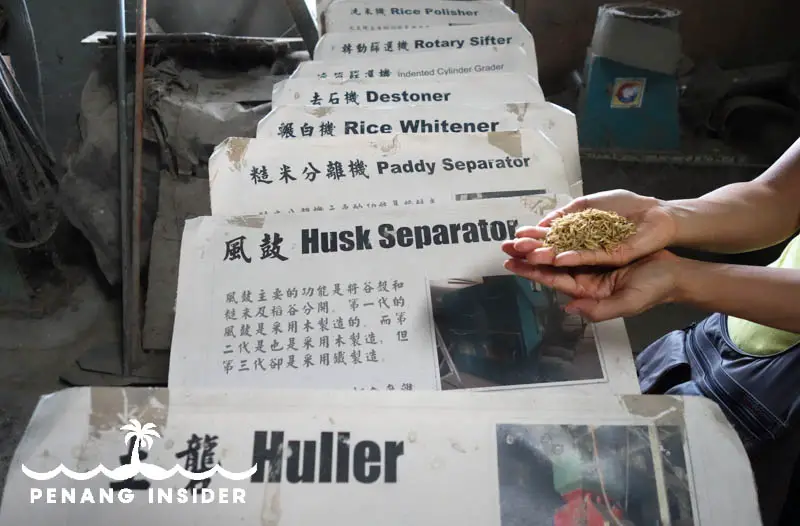 The whole process is kindly illustrated to visitors with a fun guided visit to the factory. It's free and easy to do on weekdays, but weekends and public holidays can get quite packed with local visitors, so there are precise scheduled times for the guided tours. See below: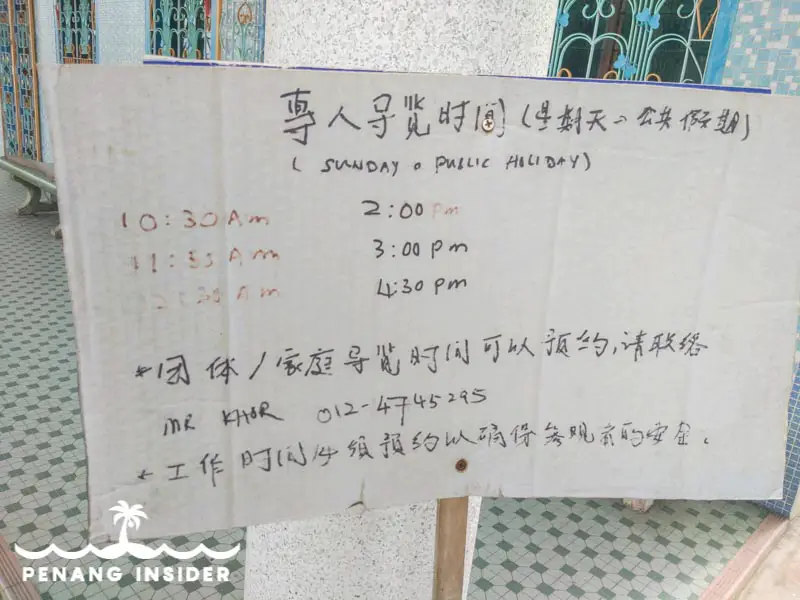 Inside the factory you'll see the different machines employed in each stage of rice processing: after collection from the paddy field, the rice needs to be dried first. In the past this step was done under the sun, but today there's a dedicated machine for that. After it's dry, the rice is roasted for 18 hours and left to neuter from pesticides for two months. At this stage, all that happens next is just polishing of raw rice for different types of produce. Brown rice is the closest to paddy's rice, followed by embryo rice. With a fourth polish, here comes white rice.
A fun detail: the rice husk is blown through a pipe at the back of the building and stored in containers. For decades, the husk has been given to the Joo Hong Chan salted egg factory across the road, which uses it to cover their eggs. Call it perfect local teamwork.
Hai Hin Rice Mill Operating Hours
Kuala Kurau's Hai Hin Rice Mill is open from 8 am to 6 pm daily, but the machines only run once a week, usually on Monday, Tuesday or Wednesday.
For more information and making a booking with a guide, call the boss Mr. Khor at +60124745295. Remember that on weekends, visits run at scheduled times.
You can find Hai Hin Rice Mill here:
---
4
Chill Back in Time at an Old School Kopitiam
The beauty of small towns like Kuala Kurau most often lies in the fact that in these places time never really goes forward. You can walk into an old shop and feel exactly as if you had stepped onto a time machine which teleported you a few decades back.
That's exactly the case in several Kopitiam all over Kuala Kurau. I loved Kedai Kopi Kor Lau in particular: straight in the center of town, fitted with a bare concrete floor that's been so trawled upon it now looks like the surface of a dark mirror, all fitted with ancient wooden furniture, like a movie set from old Malaya — including people calling me "sir" and asking for payment in "Malaysia dollars".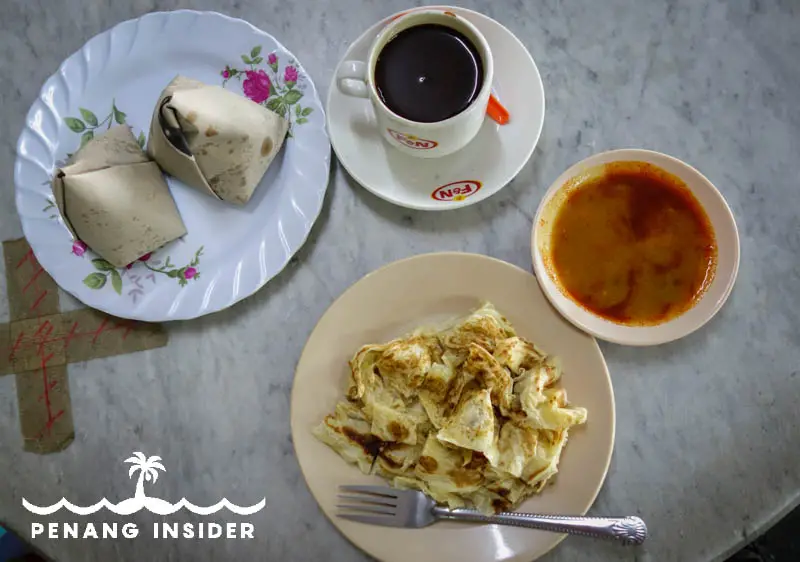 Kor Lau's roti canai is crispy and delicious, the coffee is silky and served in those old-world cups I just love, and I must give a thumbs up for the Chee Cheong Fun. Kor Lau was a perfect place for a perfect Kuala Kurau breakfast.
As a final old-school perk, judging by the tile work, the toilet hasn't been renovated since the 50s. Do it against the wall and don't forget to splash water in respect to the next customer.
Kuala Kurau is filled with these unique places, so just walk around and enjoy the vibes.
You can find Kedai Kopi Kor Lau here:
---
5
Take a Stroll at Bagan Seberang
The southern Kurau River shore is the most touristic part of Kuala Kurau and is called Bagan Seberang.Truth be told, don't expect Penang's Chulia Street as there's nothing much more here than a concrete walkway that flanks the riverside, a water-facing Chinese temple, and an interesting food court dominated by Restoran Kean Seang Lee.
There's plenty of food on offer here, including Kuala Kurau famous seafood, but prices tend to be a tad higher than in town and along Jalan Pantai on the other side of the river.
A concrete "I Love Bagan Seberang Kuala Kurau" sign set in front of the waterside Chinese temple lures tourists to take the obligatory selfies, but we believe that the best part of Bagan Seberang is away from the food court. Keep walking on the main road that flanks the river on one side, and the paddies on the other, to explore the quaint life on this side of the river.
Get to Bagan Seberang here:
---
6
Visit the Seaside at Ban Pecah Beach in Tanjung Piandang
Set beyond a land of kampung and paddy fields a few kilometers north of Kuala Kurau is Ban Pecah beach. Please don't expect sandy wonders — especially because the best part of the coast has been strewn with cinder blocks to avoid erosion — but this is a nice stop to enjoy some sea breeze and, if you don't swim, join the locals with your fishing road.
Driving through the backroads is fun too, where you'll find several Malay food stalls to quench your thirst and hunger.
You can find Ban Pecah Beach here:
---
7
Go to Hell at Hua Seng Keng (华圣宫) Temple in Kuala Gula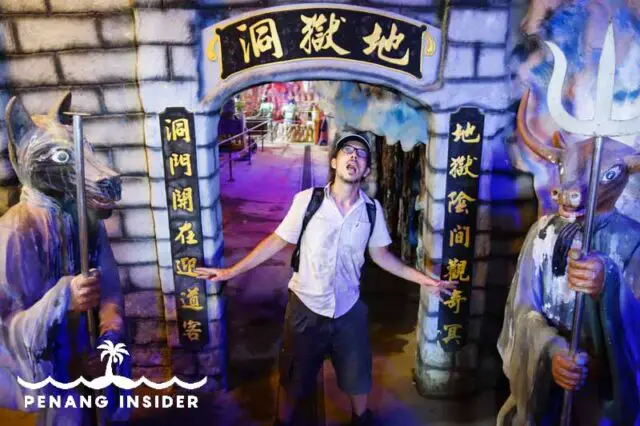 Marco taken under custody by the wardens of Hua Seng Keng's Buddhist Hell… don't make the same mistake (image © Marco Ferrarese)
Don't miss this temple on the outskirts of another nearby town, Kuala Gula, just a few kilometers to the south of Kuala Kurau.
The notable things about this Buddhist Chinese temple are many, starting with the fact it's built inside a palm oil plantation and manned by the local Indian population who live around here — another hint at the fact that in Kuala Kurau time seems to never go forward.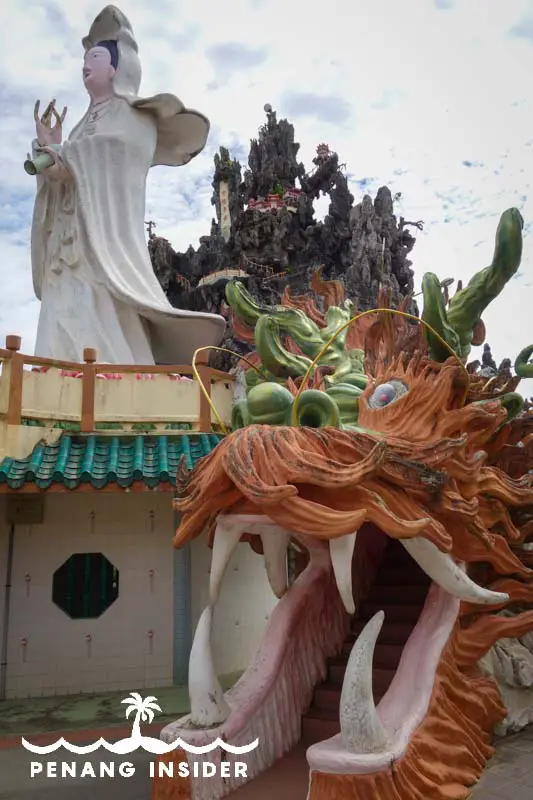 The second and most notable thing is that the Hua Seng Keng temple may have the most lysergic, disturbing and extraordinarily tacky Buddhist iconography you'll find around Malaysia.
There's a bit of everything here: a statue of Goddess of Mercy Kwan Yin — the same you'll find at Kek Lok Si Temple in Penang, just much smaller — accessed via a staircase that passes through the open mouth of a dragon. A life-sized replica of the Great Wall of China. A courtyard filled with the reproductions of the twelve animals of the Chinese Zodiac looking like they are about to eat you alive.
But the best thing at Hua Seng Keng temple is certainly the underground cellar that brings you to Buddhist Hell and back: this eery reproduction of the spires of hell and the path a dead person has to go through after death is the highlight of a trip here. You'll join the line of departed as they queue up to be assigned to their own pit of hell. You'll see demons armed with all sorts of weapons slice and torture the departed using grotesque saws and knives. Some throw the dead into pits of boiling water and over beds of nails, and some are even quartered under the wheels of a chariot — all realized in gruesome, life-sized and bloody detail. Look at these images to judge if you'd want to bring your children here or not!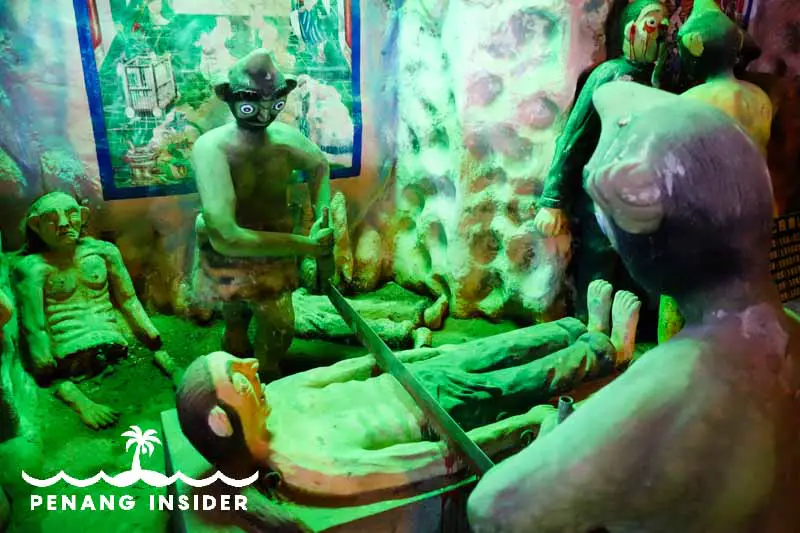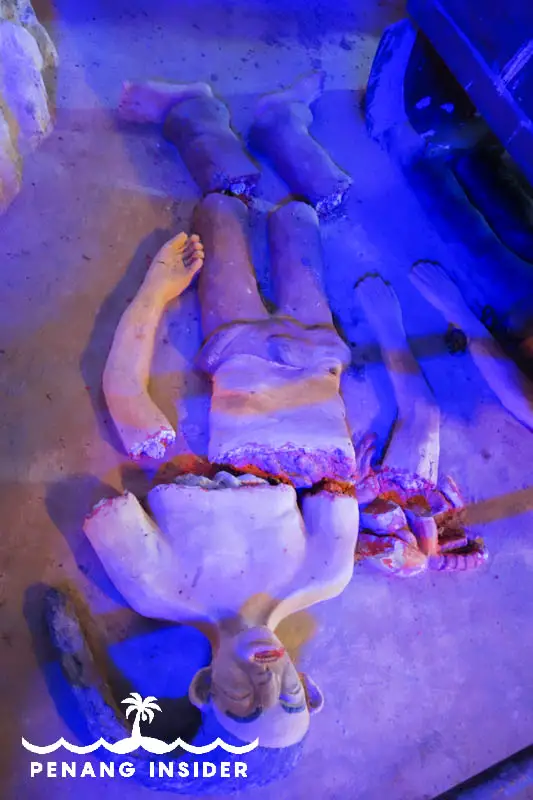 Once you leave Hell and climb to the top of this part of the temple to Heaven, you'll only feel partially better because of the nice views over hectares of palm oil plantation tucked between the highway and the sea. But in terms of a pure delirium tremens of entertainment, at Hua Seng Keng, as AC/DC used to say, Hell ain't a bad place to be.
Find Hua Seng Keng's Hell on earth here:
---
8
Visit Kuala Gula Bird Sanctuary
Not far away from Hua Seng Keng temple is the normal side of Kuala Gula: its famous Kuala Gula Bird Sanctuary, with its mudflats that attract 60-something species of migratory birds from as far as Siberia. They include egrets, herons, shore birds, storks, rails, terns and gulls, and other raptors and kingfishers. The rare Milky Stork can be found here as well.
You can come anytime but the best time to visit is from September to March during the northern migratory season when more birds are present. It's best to contact the Jabatan Perhilitan of Kuala Gula at +60 5 8902207 to ask for the latest information on birds' presence and eventually book a boat and guide.
Find Kuala Gula Bird Sanctuary here:
---
Kuala Kurau Best Food and Seafood
Set on a river estuary, it's clear that coming to Kuala Kurau and not having even a bit of seafood is a big mistake. These are some of the foods we believe you should absolutely try when in Kuala Kurau.
9
Try the Cucur Udang Prawn Fritter (西亚煎)
Kuala Kurau is famous for its signature cucur udang, which is Malay for "prawn fritter". Here they are wrapped in small, fat, disc-like pastries made with jicama slices, garlic chives, and pieces of prawn. The ball is fried until golden and then served with chili sauce on the side.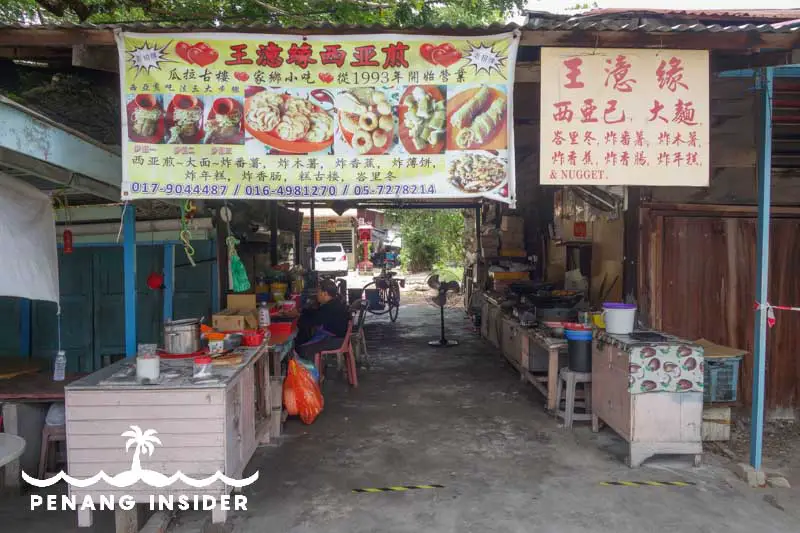 One famous stall to get this delicious snack is the one you see in the picture above. It's right next to the 隆冰水档 restaurant at 351 Jalan Pantai at Taman Kurau Permai. There's no English name, so look for it as you can't really miss it. An auntie literally fries dozens of cucur udang, fried sweet potatoes and tapioca, pisang goreng and other fritters from a simple kitchen set under an awning, standing in front of her customers. Don't worry as you can sit down and eat at the plastic tables of the restaurant nearby.
---
10
Eat Kuala Kurau's Curry Mee or Curry with Seafood
Kuala Kurau seems to have a little obsession with curry and obviously the heavenly spicy broth goes very well with local seafood.Contrary to what you may think, you will not spend much here. Curry and seafood is a simple staple found at most of Kuala Kurau's economy rice Chinese stalls.
There are two good ones next to each other on Jalan Pantai, Kedai Kopi Hua Pin and Kedai Kopi Nam Keow, right opposite the cucur udang fritter place. Both are family-run, unpretentious places and both serve economy rice with Kuala Kurau's curry seafood.
We tried Nam Keow's curry stingray, which was delicious and came in a pretty reasonable serving for just RM 6. You can have rice and seafood for about RM 10, which is quite unheard of anywhere else in Malaysia, as far as I experienced.
---
11
Restoran Kean Seng Lee at Bagan Seberang
Set at the center of Bagan Seberang's main food court, Kean Seang Lee restaurant is the spot where most visitors end up trying Kuala Kurau's seafood — but be forewarned, as this is the most touristy area of town, prices are a bit steeper.
The plus is that you'll have unobstructed views of the waterfront and will sit next to a Chinese temple with nice carvings.
Foodwise, Kean Seng Lee has a bit of everything seafood: you can get prawn fritters, crabs, mantis prawns, laksa, noodles, rojak and most other Malaysian staple dishes. It is often crowded here, so service can be a bit slow.
You can find Kean Seng Lee restaurant here:
---
In all my travels all over Malaysia, I have found this special drink only in Kuala Kurau. "Pineapple water" is a simple glass of sugar and water filled with chunks of fresh pineapple at the bottom, and topped with a mountain of shaved ice. Definitely a godsend on any hot day. I got my cup along Jalan Pantai, right next to the cucur udang place.A glass of pineapple water only costs RM 2 and the uncle serving it prepares it right in front of you using an old-school ice shaving machine.
The Chinese name of the place is 隆冰水档 and it is located at 351 Jalan Pantai at Taman Kurau Permai. It opens roughly between 11 am and 5 pm.
---
And if you liked this, why don't you sign up for our mailing list? We will send you immediately a FREE photographic eBook with some incredible pictures of Penang, and we promise, we will disturb you only about once a month with some good local advice you won't find on the site